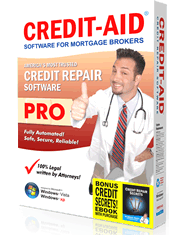 If you are a mortgage, real estate, auto or credit professional wanting to repair your clients credit, our "home-user" version will not be useful to you.
We offer "limited feature / limited use" versions of our software for "home-users" at a consumer-level price.
Here is why our home-user software is not useful for professionals:
"Home-user" versions only allow 3 names. You cannot add more names, you cannot delete them.

You also cannot copy or reuse the letters (copying and pasting will not work).

There is no way to track your clients.

You will have no product updates or support.

"Home-user" versions are only for home-users.
Our pro software is affordable for any budget. Click here for Credit repair business software