*Most resellers sell downloads-only (with nothing to store or to ship). If you require a CD, we can customize the packaging for your business, add your logo, etc. However, if you want to add your own images, into the software itself that requires
custom programming
. To reduce cost, most resellers prefer affordable "
generic" version with no Credit-Aid Branding
in English and Spanish. We set up your store, your customers pay by credit card
directly to you
and the software is sent instantly. Buy at wholesale for as little as little as $12 per key and resell them for as much as you like.
Call Barbara at 1-800-944-1838 Ext. 702 for a FREE Consultation or click here for pricing.

Frequently Asked Questions:

Why be a Reseller?
Two words: "Passive-Income." Some resellers
offer it as a do-it-yourself alternative for potential clients who don't want credit repair services. They offer to refund the software if the customer returns for paid services (9 times out of 10 they return). Othes give them as gifts or bundle with their other products.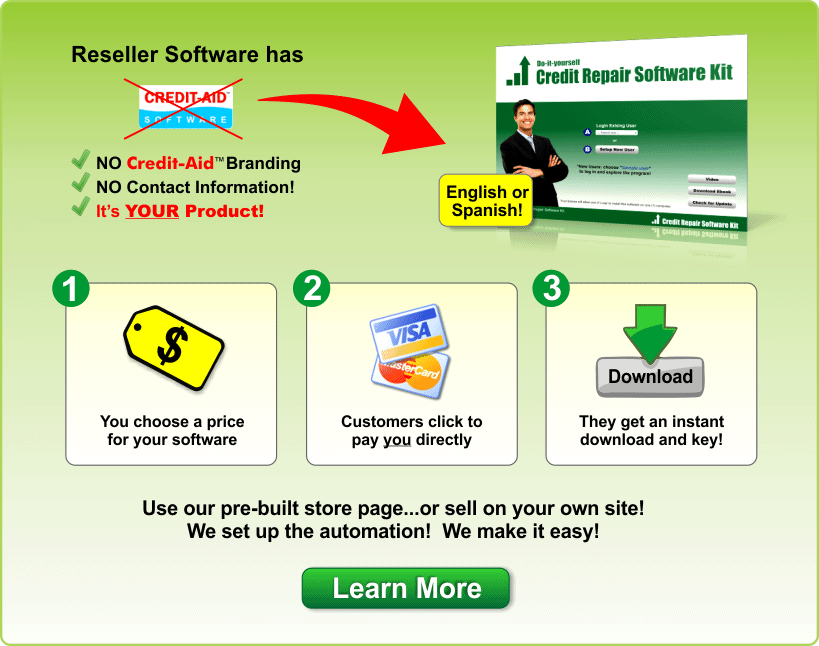 What is "Reseller Software"?

Generic "Reseller" Software is exactly the same as our "Credit-Aid™ brand" home software (and eBook), but has a different color scheme and and NO "Credit-Aid™" branding or contact information. It's YOUR Product!

What does "reseller" software look like?
Here are 5 minute video tours in English and Spanish. Or buy a software download to try on your PC:

How do I get started?
| | |
| --- | --- |
| | Call Barbara at 1-800-944-1838 ext 702 |
| | Sign up for PayPal (FREE) and E-junkie ($5 a month) |
| | Choose a price for your software! |
We'll do the rest! Your automated store collects credit card payments made to YOU and sends instant downloads to your customers...it even has a built in affiliate program!

What if I'm not very technical?
No worries! You wont have to do anything technical. We make it easy with one of these choices:
You'll have a working automated store that takes Visa, Mastercard, Amex, Discover and PayPal paid directly to YOU! Nothing to ship, nothing to store.

What if I already have my own website?
We'll give you "buy-now" button code and graphics to paste into your site, blog or email. When a customer clicks on it, voila! A cart pops up to accepts credit cards (paid to you) and delivers an instant download!

Click this button to buy a fully-functioning copy of Reseller Software!
Call 1-800-944-1838 x 702 to ask Barbara for a 50% reseller sample discount code.
When you become a reseller we'll credit back the cost of this sample.

How is my customer sent their download?
At the end of a successful transaction in your webstore, an automated download letter is sent from your
email address to your customer. Click here to see a sample.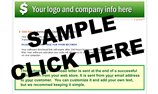 What is my wholesale/bulk price for this software?
Resellers pay $12-15 for each license key (based on quantity). Call for pricing, minimums and information.

How much money/profit can I make?
As a reseller, you can charge whatever you like. Set your own price and choose your profit!

Are there any other fees?
Yes, if you want an automated store we will set that up for you. We make it affordable and easy because we want you to sell software fast and come back for more! Here are three options for your store. We recommend Option #1 (A) or (B) which gives you a turn key store.




(A) We'll make you a Standalone Store Pageor (B) We'll set up Backend Automation for your existing web site, give you a buy-now button. You'll have a fully-automated web store!
Setup Cost: $399.95 $199 through the end of the month! *Recommended

Hire a programmer to build your own store and automation system
Setup Cost: Their prices will range from $1500-3000. *Not Recommended
Process orders yourself manually and send a download letter to each customer (manually). Setup Cost: Free *Not Recommended

Can I add my own photo, graphics or logo to the software itself?
Yes! Generic software is certainly the most cost-effective (and popular) choice because it requires no special programming, but if you prefer your logo or picture inside the software, custom design and programming is available. We can also make custom CD's. Ask us!

Call Barbara now! 1-800-944-1838 ext 702 or Click for a Pricing Form.


Reseller/Volume Price Quote Request Form
Fill in the form below to request a volume price quote: