How to launch and market a successful and lucrative credit repair business
Starting a credit repair business is easy and your timing couldn't be any better for this lucrative business opportunity. Over 80 million Americans have poor credit. Most do not understand the credit reporting system and will gladly pay good money for someone to help improve their credit. Why shouldn't that be you?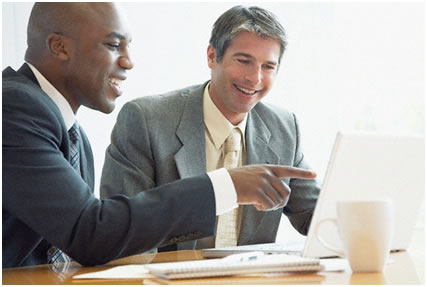 A credit repair business is one business that will always earn a profit. Even in the most troubling economy, a credit restoration business will succeed and prosper. Nearly eight out of ten Americans struggle with their finances. This very quickly takes its toll on their credit worthiness. Maintaining good credit is a necessity in our society and during troubling times, people tend to rack up more debt and fall behind. With so many people in need (and that need growing daily), a credit repair business is an ideal home-business. It needs no certification, requires very little investment, is easy to do (if you keep organized and follow the simple rules) and it generates revenue immediately. It's also the ideal home business with close to zero overhead.
A credit repair business
Is a recession-proof
Excels during tough economic times
Is easy to run from your home
Can make you money immediately
Is easy to start with very little investment
Pays for itself after just a few clients
Is a great supplement to your existing business.
Does a service for the community.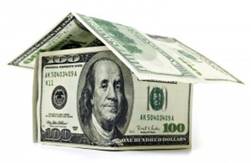 Credit repair as a business brings in new streams of revenue and passive income.
There has never been a better time in history to learn about credit repair. Mortgage brokers, loan officers, real estate agents and auto dealers use credit repair to generate new leads and close more loans. Many entrepreneurs use credit repair as an affordable home business that can earn them an additional $5000- $10,000 a month and more.
Learning the basics of credit repair enables you to start a new business immediately. It's something you can easily do in your home or office, because all you need is a computer, a mouse and a printer.
Helping others repair their credit history and have a fresh new head start on life is extremely rewarding. While it's true that consumers can do this very same work themselves, most do not want to deal with the aggravation of talking to credit bureaus to correct mistakes, handle disputes or negotiate with creditors. This is where you come in to handle all that for them.

About the Bonus materials included with your software
We have enclosed a collection of letters and materials to include in your arsenal of tools.
Instructions (opens with Microsoft Word)
Credit_Repair_Business_Guide (opens with free Adobe Reader)
Credit Secrets Ebook PDF (opens with free Adobe Reader)
Power of Attorney Letter (opens with Microsoft Word)
Fee Agreement Contract (opens with Microsoft Word)
Consumer Credit File Rights (opens with Microsoft Word)
Client_Recommendations.rtf (opens with Microsoft Word)
Fair_Debt_Practices_Act.pdf (opens with free Adobe Reader)
Additional Letters (opens with Microsoft Word)
Client Invoice (opens with Microsoft Word)
Credit Services Brochure (opens with Microsoft Publisher)
Credit_Business_Card (opens with Microsoft Publisher)

The written materials can be opened in Microsoft Word or other popular Word Processing programs. We recommend saving and renaming these documents, as needed. The PDF Files can be opened with Adobe Reader. Download it free at http://get.adobe.com/reader/.
The 2-sided, 3 fold brochure has been saved in 2 formats: Adobe Acrobat and Microsoft Publisher format, You will not be able to make changes to the brochure unless you have Microsoft Publisher. Microsoft Publisher comes with certain versions of Microsoft Office. If you do not have Microsoft Publisher, you will not be able to open and edit the brochure file. A 3rd option would be to open the PDF in Adobe Illustrator. If you do not have these programs, you can find 30 day trial versions of all 3 programs on the Adobe and Microsoft website. We are unable to help you with Microsoft or Adobe products.
Please understand that most standard disputes can easily be handled with the basic letters that are already included in the Credit-Aid Software Program. The Credit-Aid "Dispute Wizard" Has the most common dispute items already included in the dropdown menus, and when a needed dispute item is not available in the dropdown menu, you can simply use the option for "Other Information I would like changed."
Occasionally a situation may arise that calls for a special letter. The additional letters can be edited and printed from your Word processor, or they can also be copied and pasted into the Credit-Aid Program (to edit and save in your client's profile). To copy and paste from these documents into Credit-Aid , go into the Credit-Aid Program, go into the STOREROOM section and SELECT ANY LETTER, once that letter displays in the Editor/Viewer window, highlight the copy and paste from your Word Processor into the Letter Editor/Viewer and save the letter.

**NEW: Bulk, Generic and Private Label Credit Repair Software and eBooks for your Clients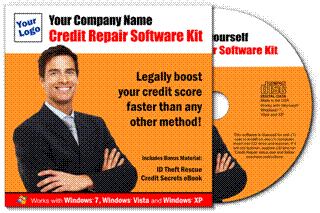 Many of our Pro Credit Repair Business Users also like to give or sell credit repair software to potential clients as gifts or for resale. We are now offering them as Credit-Aid branded, generic or even Private Label with only your logo and information on them. These are available as downloads or CD's.
If you are interested in Bulk, Generic and Private Label credit repair software for your clients, please visit this web page for more info:
http://www.credit-aid.com/bulk-and-private-label.htm
Here are the steps to get started.
1. GET A COPY OF YOUR OWN CREDIT REPORT TO STUDY. You are entitled to one free copy a year, and there are three major credit bureaus to see reports from: Equifax, Experian and Trans-Union.
2. LEARN AS MUCH AS YOU CAN ABOUT THE CREDIT REPORTING SYSTEM. We offer a copy of the Fair Credit Reporting Act and the Fair Debt Practices Act here in these bonus materials. We also offer a free ebook with credit repair tips with every purchase of our credit-aid software. Read and study as much as you can.
3. UNDERSTAND YOUR ROLE IN THE PROCESS Once you obtain your clients credit reports, you can then work with that client to correct any mistakes, acting as the intermediary between them and the credit bureau or creditor.
4. UNDERSTAND WHAT YOU ARE SELLING AND TAKE CARE IN WHAT YOU PROMISE A credit repair company cannot "erase" negative items that are accurate and have been present on a credit report for less than seven years. However, many accurate but negative items can be removed with a bit of finesse if you learn the right negotiating tactics and approach the creditors and collection agencies in the proper manner.
Here's the good news: 79% of all credit reports contain errors. This means that MOST credit reports contain errors. Those errors come off very easily with a few clicks of your mouse. Simply removing errors will improve a score almost immediately. Once you've accomplished that, you can further enhance a credit report by negotiating the remaining negative items.
5. WORK SMART AND MINIMIZE YOUR TIME SPENT WORKING The most common mistake more entrepreneurs make is in managing their time poorly. Time spent creating dispute letters and handling paperwork can eat up hundreds of hours and drop your hourly earnings very low. This is where software comes in handy. It can help you to work "smart" by saving you hundreds of hours by automating the process and giving you more off-time to enjoy your success.
6. HOW TO PROMOTE AND MARKET A CREDIT REPAIR BUSINESS Now that you have everything in place, it's time to start promoting and marketing your credit consulting business. You might call local credit repair businesses to get an idea of the services they offer and the types of fees associated with these services. In our own PRO software we give a breakdown of suggested fees. Some credit repair specialists don't charge fees at all. For mortgage brokers and auto dealers the reward can be greater in generating leads and closing more loans. Go through all the information you can find, decide on your fees and services, and get ready to advertise.
It's easy to create credit repair business flyers and business cards, either professionally or on your home computer. On the flyers, give a brief description about your services and contact information. Remember. Less is more. Post these flyers everywhere you can. You may also want to place small ads for your services in local newspapers, church newsletters, periodicals and with local merchants who deal with financing: mortgage brokers, real estate agents, auto dealers, etc.
Offer friends and family your credit repair counseling services for free, and then ask them for a letter of recommendation. This will quickly help to build your client base. Word of mouth is the very best kind of advertising.
You may want to consider giving credit repair and debt seminars and classes to help people to help themselves before they are too far in debt. Perhaps you might want to give talks at high schools and colleges about ways to stay out of debt. The students will go home with the information you have given them, and your business card or brochure, and tell their parents, who could end up as your next clients. We have many customers who give seminars. Some of them even buy our software in bulk to resell or give to attendees.
7. ADDITIONAL WAYS TO MARKET A CREDIT REPAIR BUSINESS
Billboards – These are great to be seen every day by the drivers passing by, but traditional billboards can be very expensive, however we are also starting to see small portable mobile billboards on the side of these road. These are a nice affordable alternative.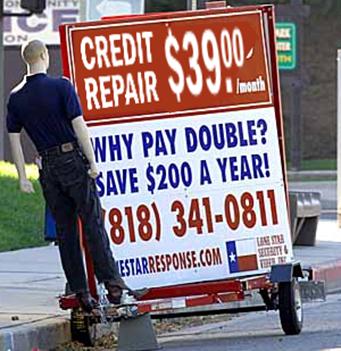 Mini Portable Billboard
Magnetic Sign on the side of your car - These really work! Everywhere you go, people will see this and you cant beat the price!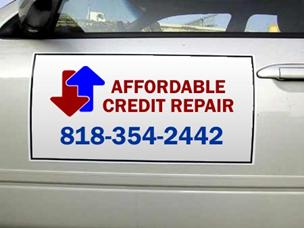 Fliers and Brochures – These are also excellent affordable ways to advertise your business. You might try hanging them in restaurant and shop windows, grocery stores, laundromats, at a local college, on light poles, bulletin boards, etc.
Make sure you are aware of the laws in your city and that you are not violating them by placing your marketing material where it is not allowed.
Also consider offering your marketing materials to referral partners like accountants, auto dealers bankers, financial planners, mortgage brokers, real estate agents, etc. Their clients are in need of your business. Some credit repair companies pay for these referrals.
Local Newspaper Ads, Shopping guides Newspaper ads can often be very affordable. As with all marketing, your job is simply to get your services in front of as many people that need them as possible.
Internet ads, Craigslist Ads, YouTube, Your own web site - You cant beat free advertising!
Direct Mail Marketing This can become costly and they can be difficult to track, so test in small quantities first. Create 5 -10 possible direct mail pieces and then try sending them out in groups of 200. Evaluate the productivity by assigning different 800 phone numbers or website addresses.
Designing more pieces will be more expensive in the beginning, but it can make you a lot more money in the end because you are sending out a direct mail piece that you know will be getting a predetermined response rate. Find one that works well and roll it out big time!
Be creative! Think about where your customers would be, what they would be reading, looking at, etc. and then place your services in front of them.
8. Additional Marketing Ideas
Promote your credit repair business vigorously. Advertise, and offer bonuses to raise awareness of your business - such as free counseling, free consultations, free credit report assessment, lotteries, quality information and resources, and so on. It's not difficult to establish your credit repair business and make money, provided you keep the interest of your client as the most important aspect of the business.
Always start with someone close. Start with friends, family and colleagues. That will get the word of mouth rolling. Go out of your way to do an exceptional job! Your good work will be rewarded by word-of-mouth promotion and endless leads.
To kick start your credit repair business offer a limited time discount; and make sure to give your best effort, so those that take you up on your offer will send you more business through referrals.
9. START SMALL AND WORK OUT KINKS BEFORE EXPANDING TOO QUICKLY
As a credit consultant, you should start to build your business locally before expanding too fast or going to the internet. If you build your credibility early, when you branch out, you will have experience and a history of customer satisfaction to back you up.
Stay honest with your clients. You are providing them with a very important service. They must trust you and your business. Credit repair can be confusing to many. Reassure and give them the information they want. This will enhance your credibility and increase your credit repair business well into the future.
Running a credit repair business can be made simpler with the help of Credit Repair Business Software. Credit-Aid™ PRO stores your client information to merge into its database of letters, saving you many long hours of letter writing.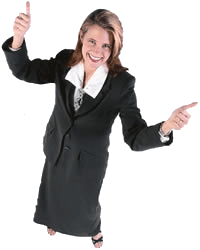 How does this business work?
1. You advertise your credit repair service. People call, then you would schedule an appointment with them.
2. When you meet with them, you explain the credit repair process and instruct your new client to fill out the contracts making sure every item indicated is filled out correctly.
These items are also given to the client at the first meeting:
Fee Agreement Contract (Explains your fees)
Consumer Credit File Rights (Explains their legal rights)
Client_Recommendations.rtf (Gives instructions on how they can do their part)
Fair_Debt_Practices_Act.pdf (Explains their rights)
Credit Services Brochure (optional)
Power of Attorney Letter (must be signed if you are to be signing letters on behalf of your client)
You will also need to order 3 current credit reports (1 from each of the 3 bureaus)
3. Explain your fee during your first contact, collect your money, and give your client a receipt. How you charge your client is completely up to you. Some charge a flat fee $300-$700. Others charge a small fee up front. Some charge a monthly fee. It also depends upon your own personal business model and the laws in your state.
4. Soon after the initial meeting with your client, you will have their credit reports...or they will forward (mail, fax, or drop off) their credit reports and you will draft the dispute verification letters for each credit report you received from your client.
5. Wait for the results to come in and repeat the process if necessary. Lather, rinse, repeat.
What you will need:
A Basic understanding of how credit scores are determined.
Your client's 3 credit reports from all 3 bureaus (Equifax, Experian and TransUnion).
A basic understanding of what it takes to repair bad credit.
The ability to read write and communicate well, plus social skills.
Software to automate the dispute writing process and remind you for follow-ups, and to guide you through the process.
Have your client order a credit report from each of the 3 credit bureaus (Equifax, Experian and TransUnion). The Annual Credit Report Service allows you to write one letter and receive all three reports. Ordering a report by paper mail is the easiest. If the client orders their own credit report they will not suffer a hit on their credit score.
Ordering credit reports is the most important step, because nearly 80% of all reports contain errors and those errors are most often the reason for a low credit score. Simply removing those errors will usually raise the score immediately. Your primary job as a credit restoration specialist is to help your client by disputing information on their reports that you believe to be inaccurate.

Examine your client's credit reports and try to identify accounts that do not belong to your your client. Watch for unpaid loans that might not belong to your client because this could be a sign of identity theft. Identity thieves often avoid raising suspicion by first taking out loans, credit cards or lines of credit in very small amounts. If the client never knew these accounts existed, they remain unpaid and very quickly cause devastation to a credit score.

Create a separate credit dispute letter for each of the 3 credit bureaus; mail each one a letter detailing the mistakes you have found an asking that they be corrected. If you find anything that points to identity theft, immediately inform the police so the theft may be tracked; it will also absolve your client from responsibility to a certain extent.

Your business will prosper based on your success as an intermediary between the bureaus and your client. Most people come to a credit repair business for their troubles because they have no time or inclination to learn how it's done. So if you wish to be in high demand you must make your number one priority to act in the best interest of your clients. Make no mistake; this is THE key to the success of your business.

If a report comes back and the item you have disputed remains on the report and the bureau states that the item has been verified, you can send a follow-up letter requesting proof and evidence of verification. You can also requesting a copy your client's signature showing that the indeed entered into the agreement that created the debt.

Credit repair software will greatly simplify the process. The more efficiently you can streamline your work, the more time you will have for taking on additional clients. End-user Credit repair software (software that install on your own computer) is more advantageous than an online website subscription because the data stays safely on your own computer. No one else has control or can access your client's data. You won't have to worry about a web server going down at a critical time, and no one can keep you from your client's data. The other thing to think about is that you pay for end-user software once and it's paid off immediately with the first few clients. A web based subscription service offers no advantage and will burden you with ongoing payments indefinitely and surprise fees.

Some important points: The best way to make money is by ensuring that your client is happy. The rest will simply fall into place. And finally, charge affordable fees, make unrealistic promises, or step outside the law, regardless of how tempting it may seem.

Tips & Warnings
The best way to make money is by ensuring that your client is happy. The rest will simply fall into place.
To kick start your credit repair business, offer your services for a discounted price for a limited period; ensure that you do an outstanding job for those who opted for the introductory offer.
Never be greedy with the fees
Never promise too much
Never do anything that you even suspect may be illegal, however tempting and profitable that may seem to be.
How to Boost a Client's Credit Score in Seven Easy Steps
1) Correct all errors on your Credit Reports.
Go through your credit reports very carefully. Especially look for; Late payments, charge-offs, collections or other negative items that aren't yours, Accounts listed as "settled," "paid derogatory," "paid charge-off" or anything other than "current" or "paid as agreed" if you paid on time and in full, Accounts that are still listed as unpaid that were included in a bankruptcy, Negative items older than seven years (10 in the case of bankruptcy) that should have automatically fallen off your report (you must be careful with this last one, because sometimes scores actually go down when bad items fall off your report. It's a quirk in the FICO credit-scoring software, and the potential effect of eliminating old negative items is difficult to predict in advance). Also make sure you don't have duplicate collection notices listed. For example; if you have an account that has gone to collections, the original creditor may list the debt, as well as the collection agency. Any duplicates must be removed!

2) Be sure that your proper credit lines are posted on your Credit Reports.
This is one of the most overlooked credit repair secrets. In an effort to make you less desirable to their competitors, some creditors will not post your proper credit line. Showing less available credit can negatively impact your credit score. If you see this happening on your credit report, you have a right to complain and bring this to their attention. If you have bankruptcies that should be showing a zero balance…make sure they show a zero balance! Very often the creditor will not report a "bankruptcy charge-off" as a zero balance until it's been disputed.
3) If you have negative marks on your Credit Reports, negotiate with the creditor/lender to remove them.
If you are a long time customer and it's something simple like a one-time late payment, a creditor will often wipe it away to keep you as a loyal customer. If you have a serious negative mark (such as a long overdue bill that has gone to collections), always negotiate a payment in exchange for removal of the negative item. Always make sure you have this agreement with them in writing. Do not pay off a bill that has gone to collections unless the creditor agrees in writing that they will remove the derogatory item from your credit report. This is important; when speaking with the creditor or collection agency about a debt that has gone to collections, do not admit that the debt is yours. Admission of debt can restart the statute of limitations, and may enable the creditor to sue you. You are also less likely to be able to negotiate a letter of deletion if you admit that this debt is yours. Simply say "I'm calling about account number ________" instead of "I'm calling about my past due debt."

4) Pay all of your credit cards and revolving credit down to below 30% of the available credit line.
The scoring system wants to make sure you aren't overextended, but at the same time, they want to see that you do indeed use your credit. 30% of the available credit line seems to be the magic "balance vs. credit line" ratio to have. For example; if you have a Credit Card with a $10,000 credit line, make sure that never more than $3000 (even if you pay your account off in full each month). If your balances are higher than 30% of the available credit line, pay them down. Here is another thing you can try; ask your long time creditors if they will raise your credit line without checking your Credit Report. Tell them that you're shopping for a house and you can't afford to have any hits on your credit report. Many wont but some will.
5) Do not close your old credit card accounts.
Old established accounts show your history, and tell about your stability and paying habits. If you have old credit card accounts that you want to stop using, just cut up the cards or keep them in a drawer, but keep the accounts open.

6) Avoid applying for new credit.
Each time you apply for new credit, your credit report gets checked. New credit cards will not help your credit score and a credit account less than one year old may hurt your credit score. Use your cards and credit as little as possible until the next credit scoring.

7) Maintain at least three revolving credit lines and one active (or paid) installment loan listed on your Credit Report.
The scoring system wants to see that you maintain a variety of credit accounts. It also wants to see that you have 3 revolving credit lines. If you do not have three active credit cards, you might want to open some (but keep in mind that if you do, you will need to wait some time before rescoring). If you have poor credit and are not approved for a typical credit card, you might want to set up a "secured credit card" account. This means that you will have to make a deposit that is equal or more than your limit, which guarantees the bank that you will repay the loan. It's an excellent way to establish credit. Examples of an installment loan would be a car loan, or it could be for furniture or a major appliance. In addition to the above, having a mortgage listed will bring your score even higher.
To speed up the credit repair process:
With the tremendous amount of letter writing and record keeping involved in credit repair, having an inexpensive software program can really speed up the process by creating credit dispute letters and guiding you the whole way.