EFFECTIVE IMMEDIATELY 6/14/2014 THE CREDIT-AID SOFTWARE AFFILIATE PROGRAM WITH REGNOW/MYCOMMERCE IS DISCONTINUED. WE HAVE NOTIFIED ALL AFFILIATES VIA MY COMMERCE/REGNOW. WE ARE SORRY FOR ANY INCONVENIENCE.
Additional money-making programs:
Make money as a reseller! With your own brand of Credit Repair Software in your own automated webstore! As a resellers you can set your own price and choose your profit:
Click here for details: http://www.credit-aid.com/reseller.htm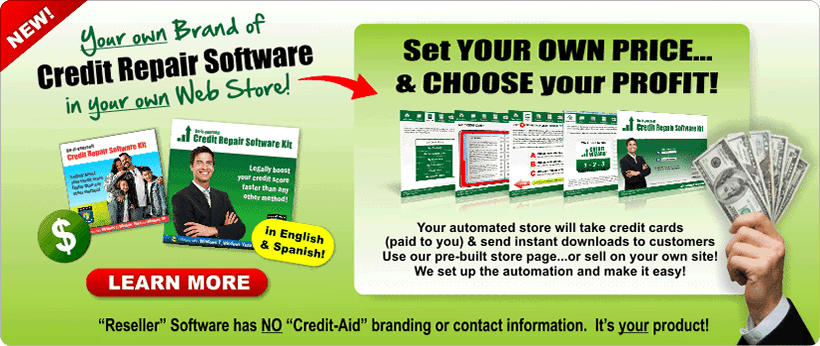 Got a website?
We'll pay you to promote our credit repair software!
Do you have clients, website, e-zine, blog, direct mail or newsletter viewers? Are they consumers, students, homeowners, first-time buyers, mortgage, real estate or auto professionals who can benefit from Credit-Aid Software?
**Sign up to become an affiliate and earn money from referred sakes.
This program is FREE!


It's easy to sign-up and requires no technical knowledge. Promote Credit-Aid Software on your site and profit.

How Does It Work?

When you signup at RegNow you will be supplied with a range of banners and textual links that you place within your site. When a user clicks on one of your links, they will be brought to our website and their activity will be tracked by affiliate software.

Real-Time Statistics & Reporting!

Log-in 24 hours a day to check your sales, traffic, account balance and see how your banners are performing.
Additional money-making programs:
Make money as a reseller! With your own brand of Credit Repair Software in your own automated webstore! As a resellers you can set your own price and choose your profit:
Click here for details: http://www.credit-aid.com/reseller.htm