New "Credit-Aid" Corporate Pro-1000 Professional Credit Repair Software Provides Critical Tools to Help More Qualify for Loans
Credit-Aid Corporate Pro-1000 Dramatically Improves Potential Borrowers' Options in the Collapse of the Subprime Loan Market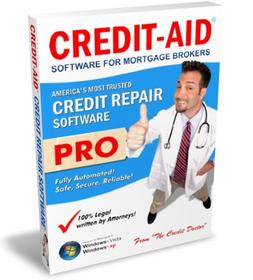 LOS ANGELES, CA--(Associated Press - December 17, 2008) - The award-winning Los Angeles software company "Credit-Aid" (aka: The Credit Doctor) today announced the launch of its newest product: Credit-Aid Corporate PRO-1000 Professional Credit Repair Software.
In the wake of last year's ultra-successful Credit-Aid Credit Repair Software for Mortgage Brokers, Corporate PRO-1000 is designed to provide mortgage brokers, loan officers, real estate specialists, auto professionals and anyone with a credit repair business more options in today's shrinking financing market. The cutting-edge Credit-Aid Corporate PRO-1000 software provides a fully automated system that helps improve clients' credit scores, thereby helping more clients to qualify for a wider array of loan products.
Daniel Rosen, the founder of Credit-Aid, calls Credit-Aid Corporate PRO-1000 software, "the single, most important software for mortgage brokers, working with borrowers with less than absolutely perfect credit. For less than one dollar per client, they can now solve this dilemma."
As the developer of the award-winning credit repair software for consumers, Rosen has won accolades from the high tech industry and is a twice-featured speaker at the "PC Magazine Awards for Excellence" at Comdex.
Michael Jaffa, a Los Angeles-based transactional attorney and litigator, worked with Rosen over a two-year period to develop the new Credit-Aid Professional Credit Repair Software. "This program comes at a time when there is no other program servicing mortgage brokers and loan professionals' needs. Many potential borrowers have been hurt by the recent turmoil in the subprime market. Lenders are tightening standards and demanding larger down payments. Mid-tier borrowers are being pushed into 'Alt-A' loans where they could be considered prime borrowers if their credit report scores were just a few points higher. To get clients the best loan possible, loan officers used to spend hundreds of hours cleaning up credit reports. Now, Credit-Aid Corporate PRO-1000 completely automates this process and is the most user-friendly and powerful program on the market to date."

The software enables fast access to clients' credit reports. When negative items or inaccuracies are found, it automatically generates personalized letters written by a business attorney demanding the appropriate action be taken. With studies showing that as many as 79% of all credit reports contain errors that can lower a persons credit score, Credit-Aid Corporate PRO-1000 alerts the proper authorities to correct inaccuracies helping everyone from mortgage brokers and bank loan officers and credit repair specialists, to those who want to do self credit repair. The end result: more people qualifying for loans and deals closing faster.
"Our software is a fresh approach to solving the Mortgage Broker's dilemma," states Rosen. "It is designed to help those people walking in the door who need a loan but whose choices are limited to expensive high-risk products or who are completely shut out by negative credit issues and a low credit score. Credit-Aid Corporate PRO-1000 helps resolve problems by addressing inaccuracies, requesting items be removed, and updating potential borrowers' credit reports to reflect the latest information -- with just a few clicks of the mouse."
Designed to store data on up to one thousand (1000) clients, the new software comeswith an instant mortgage loan calculator, a debt ratio calculator, the ability to perform simple bookkeeping functions, a database designed to track letters and a built-in reminder to mortgage brokers when it's time to check up on their clients.
Safety-wise, Credit-Aid Corporate PRO-1000 is stand-alone software and does not use the Internet to transmit information. It further protects sensitive client information by encrypting those files. Credit-Aid is compatible with both Windows Vista and Windows XP. Mac users can run it via Parallels.
For consumers who cannot afford the new software, Credit-Aid is offering a special FREE version consisting of their full Retail Home Credit Software, available through the generosity of Credit-Aid's new Partners at TrialPay. A FREE E-BOOK is also available, via www.credit-aid.com, detailing the process of credit repair and offering FREE sample credit repair letters.

Credit-Aid is presently seeking Affiliates. Anyone with a website can sign up at no cost to become an affiliate and earn up to $100 for any referred sale of Credit-Pro software through www.credit-aid.com.
Rosen notes, "When the loans industry in California began to hit a slump, we started developing our software at the request of mortgage brokers. We are dedicated to serving this market and will continue to develop new products to serve the financial marketplace."
Click here to buy Credit-Aid PRO
Press release written by Writer For Hire.
If you're a Mortgage, Real Estate, Auto Industry or Credit Repair Specialist with questions regarding Pro or Bulk sales (not tech support), call our Corporate Sales Dept (310) 929-7554, email barbara @ credit-aid.com or click here (For Español: (310) 929-7540)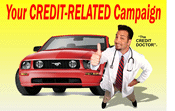 New Free Marketing Tools for Mortgage, Automobile and Real Estate Professionals!

Let us help you with co-branded "The Credit Doctor"© and CREDIT-AID™ Graphics for your "Credit Related" Campaign! Click here for details.


The Credit-Aid Affiliate program has officially launched!
Do you have clients, website, e-zine, blog or newsletter viewers? Are they Consumers, Homeowners, First-Time Buyers, Mortgage, Real Estate, Credit Specialists and Auto Industry Professionals who can benefit from Credit-Aid Software? Earn revenue as a Credit-Aid Affiliate!
Credit-Aid's affiliate program is set up through our shopping cart service, E-Junkie. In order to become an affiliate you must have, or set up a PayPal account in order to receive payment. Once done simply click on the link we provide and you'll be taken to the E-Junkie site where you can easily sign up.
Click here for more about our Affiliate Program.
New for Home Users:
Get our get full versions of our consumer software for FREE
from our new Partner TrialPay!


Instant download and cart technology by:

Innovative solutions for e-commerce merchants from our partner TriaPay:


*Corporate Sales
Toll-free 800-257-1192
(Hablamos Español)
For customer service or tech support
please see: contact, support or FAQ
This is easy to use software
and not a subscription.
There are no monthly fees!
Home Owners
Raise your Credit Score
for a BETTER LOAN or REFI
Mortgage Brokers
Boost your Client's Credit
for LESS THAN $1 per Client!

______________________

CUSTOMER COMMENTS
"Your program is fantastic! I raised my credit score 287 points in 30 days and saved thousands on my home loan!"
— Dave Goodman
Phoenix, AZ
"Editor's Choice: A powerful, user-friendly program that delivers what it promises."
— Lloyd Seagan
Stuff Magazine
"This company was WONDERFUL to deal with; the greatest customer service on the net!!"
— Jennifer W.
Maple Shade NJ
"A bad credit score can negatively impact a person's ability to obtain a decent mortgage. I help my clients with Credit-Aid Corporate PRO 1000 Software. It's simple to use and effective. Thank you for a wonderful and reasonably priced product!"
— Noe Longoria, Loan Officer
Simplex Mortgage, San Jose, CA
"Credit-Aid Plus is remarkably well designed. Installation was a snap, and I find it extremely easy to use. After 4 days of putting it through the paces without a single crash-error, I'm fairly certain the code is clean, tight and reliable. Strictly on functionality, it is virtually flawless and easily stands on its own merit. Yet, you went to great lengths to provide a highly intuitive user interface complete with an interactive co-pilot, wizards and pop-up reminders always at the ready to provide guidance every step of the way, leaving nothing to chance or lingering questions. The result is a solid, well-rounded product that is both educational and fun to use, quickly melting away all the trepidation and anxiety I generally feel on the sore subject of credit repair known more for the anguish and intimidation it engenders. Credit-Aid Plus is a bargain, compared to the cost of credit repair services which couldn't possibly do any better legally. It gives Main Street a heck of a fighting chance against Wall Street. If there's anything it can't, I simply haven't found it. The product is that complete! For the first time in all the years I've agonized over my credit woes, I actually feel empowered, rather than helpless. As for support, I haven't needed any... the product is truly idiot-proof! Even so, I did call in before my purchase with a pre-sales question and received a call-back within 2 hours. Not bad! There is not a single thing I would change in the software; and that's saying a lot. It is refreshing to see a product that delivers on both form and function, true to its promise. If anything, Credit-Aid Plus over-delivers on every front. I am thoroughly impressed with the product and would highly recommend it without reservation. It's exactly what the doctor ordered... no pun intended! You should be very proud."
— Chima A. Ochiagha
Information Technology Strategist
chima@viatechglobal.net
Houston, TX
"I was able to buy a home -- even with my bankruptcy! Thank you for such a wonderful product!"
— Richard Samarcelli
Woodland Hills, CA
"I most most impressed with how far they were willing to go to help me as I was having a problem with my computer. This product is awesome."
— J.S.
Dunlap, IL
"I LOVE this Software! Prior to using it, I spent quite a bit of money on an expensive "credit repair company" that did NOTHING but take my money! Credit-Aid Software has made it very easy for me to repair my own credit. In my first month I saw huge results and was able to qualify for a better rate on a Refi. Thank you Credit Doctor!"
— James J. Redman
Coco Beach, FL
"Great services...great software, this application will help many people to work faster and better with their credit. Thank you Credit-Aid!"
— L. Barrera
Riverside CA
"My order was handled very well. I'm pleased with every aspect of my shipping of items, and they communicated well with me. Thank you very much!"
— Michael Underwood
Raleigh NC
"It is evident that the publisher has done his homework and researched the necessary requirements, provided comprehensive information yet been able to keep it concise so that the user is not overwhelmed. Of all the credit repair companies for profit, non-profit, Credit-Aid is to be the best choice for price, capabilities, ease of use, and informative without the superfluous legaleze...a Superior product!"
— Jeffery A Reilly
Portland, OR